"As explosive as a dog sneeze."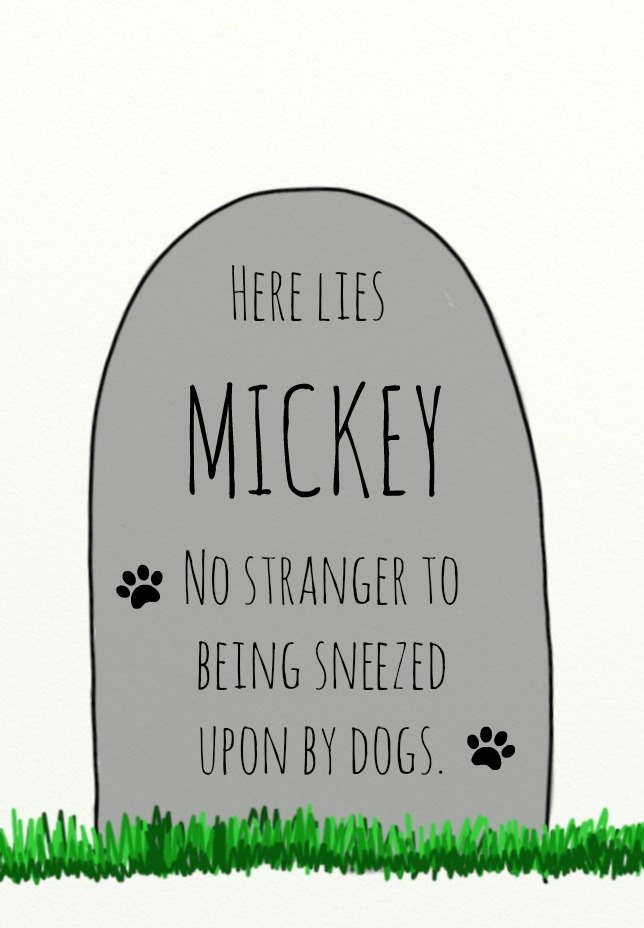 There's a phrase you don't hear every day, and here's another: I am no stranger to being sneezed upon by dogs.
I don't know if this is a good thing or a bad thing. I'm haunted by the thought that this could be my epitaph:
Here lies Mickey, no stranger to being sneezed upon by dogs. 
I suppose there are worse ways to be remembered.
Anyway, earlier today I decided to make a smoothie. Shiloh, Mischief Dog can tell when I'm getting ready to make a smoothie.
Can he tell because I get the blender out? No, because I've learned to get the blender out LAST and throw everything in willy-nilly and turn it on quickly to drown out his barking. This has led to the smoothie-on-the-kitchen-ceiling and spoons-don't-blend scenarios, but that's not the point.
The point is this: now he can tell I'm getting ready to make a smoothie when I get the oats out of the pantry.
Yes, the dog who gazes at you in gentle bafflement when you say, "Shiloh, want a treat?" has figured out the recipe for a smoothie. There are people in this house who can't make scrambled eggs, but one of the dogs now knows how to whip up a tasty frozen treat.
Today seemed like a good day to begin training Shiloh out of his driving need to bark whenever the oats appear. I called him into the kitchen and took the lid off the tin. I knelt down and let him sniff – he's a very curious dog. I'm not sure which of us was more surprised when he plunged his nose through the opening, but I'm here to tell you that steel-cut oats stick to a dog nose like jimmies on soft-serve ice cream. He sucked in his breath, and I had just enough presence of mind to cover the top of the can with my shirt before he sneezed.
And boy, did that dog sneeze.
I got oats on my shirt, on my face, in my hair. There were oats in my eyelashes, there were oats in my EARS. When I went upstairs to shower and change, oats fell from my clothes. They sat there on the bathroom floor in sad, abandoned little drifts.
Unlike regular oats, which I suspect have greater drag due to design, steel-cut oats appear to be quite aerodynamic. In direct defiance of the laws of physics, I found oats in the dining room around the corner from the kitchen. Maybe the explosive nature of the sneeze launched them with such velocity that they banked around the dining room wall and ended up in our neighbor's living room. It really wouldn't surprise me.
It took a good ten minutes to clean poor Shiloh off before I even started on me or the house – getting oats out of a dog nose is a delicate business, fraught with peril. Having experienced the wordless joy of having simple WATER stuck up my nose, I certainly didn't want to risk having oats stuck up Shiloh's. And it's not like you can hold a Kleenex up to a dog's nose and say, "Blow."
Well, you could. I suspect that this is in the advanced dog training course, though. We're still working on "Stay."
All in all, it was an interesting day.
Also? You might be tempted to think a dog sneeze is funny, but it's snot.
<muffled snorts of laughter>