Back in February, I read a post by a friend about fitness tracking devices. She mentioned the Fitbit Flex, which was scheduled for release in Spring 2013.
I'd been considering a tracking device for a while now, and decided that I'd wait to buy one until the Flex came out. I signed up to receive an email notification when it became available. I waited.
And I waited.
And I waited.
I checked the site in early April, thinking if it was coming out soon I could ask for it for my birthday. "Spring 2013" had changed to "May 2013." Okay, I reasoned. I can wait another few weeks.
I – wait for it – waited.
Finally, on May 6th, I received an email – the Flex was ready to be ordered! After executing a series of joy-inspired cartwheels, I immediately clicked through to the site only to discover that there was already a back-order of "approximately 2 weeks" on the black Flex band. I decided to order it anyway. I went for the free shipping (which I've subsequently decided must've meant, "Hey, I really don't want this." in sales-speak). I received my order confirmation (including the all-important phrase "Fitbit Flex Band (Black) Ships in about 2 weeks") and waited.
And waited.
And waited.
About 10 days into the wait, I contacted Fitbit to check my order status. Their response? "We wanted to assure you that the expected ship date of your product was accurate at the time of placing your order." This was followed with, "We expect your order to ship during next week. Please let us know if you have any additional questions."
So I waited.
And I waited.  At this point, if waiting burned calories, I probably wouldn't even need the Fitbit Flex.
20 days into the wait I sent another email, requesting an update. I was notified that, due to overwhelming interest, I could NOW expect a wait time of 8-10 weeks. 
Yep. The wait time went from "approximately 2 weeks" to "up to 70 days."
I wrote back, expressing my deep disappointment in this process, noting that friends who had ordered at the same time I did received theirs weeks ago. Their response?
Thank you for your email.

We're sorry about the delay in shipping your Fitbit order. We want to assure you that we are working as fast as possible to get your order to you.

We can offer you the following options:

1. Leave the order as is and wait for it to ship within 8-10 weeks from the date you placed your order.
2. You can follow the link provided in the confirmation email and cancel the order. Then purchase the product through another authorized retailer.
To summarize: I could be patient, or I could cancel and try to buy it someplace else.
The lesson?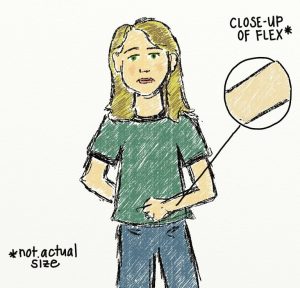 Let me start by saying that the Fitbit Team has been timely and professional in their communications (aside from the whole not-sending-the-product part, and the part where they keep changing the expected ship date, and the part where they invited me to cancel my order), which is appreciated. They cannot be in a good place right now. While impressive that their device is so vastly popular, clearly their inventory is not keeping up with demand. I suspect that I might not be the only one not filled with joy over this scenario.
However, they had me poised to be a cheerleader for their product and they blew it. I'd been waiting for it since February. I chose to forgo purchasing other devices until theirs was available. I signed up to receive notification when it was available for purchase ( I never sign up for notifications!). As soon as I was notified, I purchased it. While mildly puzzled that within hours of the notice at least one of the bands was already back-ordered, I still decided to buy one. And wait. And despite checking the mailbox each day only to find an extreme lack of Fitbit Flex, I somehow managed to maintain that excitement, thinking, "This is the day!"
Only I'm still waiting.
And now, I'm not feeling like a valued customer. In fact, I'm feeling quite the opposite. I feel as if I've been told, "Hey, know what? There are LOADS of people LINING UP AROUND THE BLOCK FOR THIS PRODUCT, Loser. If you don't want one, cancel and let someone else have it. We don't need you."
And that's a real shame. Because I can be one hell of a cheerleader.
They squandered my excitement and my interest. Now, instead of sharing my adventures with their product, I'm writing a post to express my frustration with the whole process. I even drew a self-portrait featuring the complete absence of Fitbit Flex on my wrist. I don't even want the product now, because the experience has been soured by their seeming lack of interest in keeping me as a customer. Why should they care? I'm just one person, after all.
To Fitbit, anyway.
But to everyone else, I'm just one person suddenly looking for suggestions for other fitness tracking devices. 
Preferably from a company that values its customers.