Well, November is off to a difficult start. We had to say good-bye to our dear friend's sweet pup Haley this past weekend. This is a tribute to a wonderful dog who was very much part of our family.

I first met Haley-pup 15 years ago. She belonged to my husband's best friend (and over time my dear friend). I've never met a sweeter dog.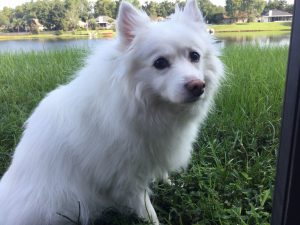 She loved giving kisses to whatever part of you she could reach. She had the most soulful, loving eyes. She had the fluffiest, softest coat with these tiny, skinny legs sticking out from the bottom: we called them her "getaway sticks."
Haley would prance behind various people throughout the house, a deliriously happy parade of two. She'd almost always slam into the back of their legs when they stopped because she was so busy looking at everyone else as if to say, "GUYS! LOOK! ISN'T THIS THE BEST?!?!"
Mom and Dad adored that dog (Dad called her Hale-Bopp, after the comet, because why not?). They loved watching her when Cory travelled, and she was very much a part of our family.
One Thanksgiving, my husband got up from the table for a moment and Haley jumped right up into his chair. She didn't try to get any food, she simply sat there, tail wagging and grinning.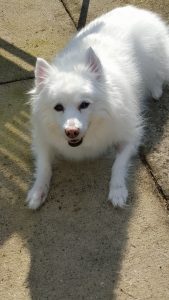 She wasn't much of a tennis ball dog. Once, I threw the ball "to" Haley, who just sat there unmoving as the ball flew through the air to hit her in the face. She winced then gave me a look of gentle reproach: "Really? What on earth would make you want to do that?" After that, we stuck to plush toys.
Haley LOVED her plush toys and adored a good game of tug-o-war or fetch. I smile to think of her racing through the house, squeaking her toy goose with a doppler *honk honk HONK HONK HONK honk honk honk* as she ran back and forth, secure in the knowledge that whatever toy she had was THE BEST TOY in the whole world.
Once, when she was in her crate, she started to yodel like she was practicing her scales: "WoowoowoowoowooWOO." Pause. "WOOwoowoowoowoo." We laughed and decided she must be warming up just in case anything needed to be barked at later. After all, it's always best to be prepared.
When we visited, I'd often find sweet Haley keeping me company on the patio as I read or cuddling next to me on the couch, you know, just in case any spare treats or belly rubs came her way.
When she'd jump into bed, she'd dig dig dig dig dig and rearrange the covers over and over again until she got them JUST RIGHT. Then she'd collapse on top of them, curl up and fall immediately into a deep, contented sleep as only a dog can.
For a small dog, she took up a truckload of real estate in a bed.
For a small dog, she took up a truckload of real estate in my heart.
Haley just turned 16 a few days ago, and sadly she left this world for her next big adventure on Saturday morning. My heart is broken for our friend, who loved Haley beyond all reason (as she did him) and who gave her the very best life a dog could ever hope for.
I have so many wonderful memories of this incredibly loving dog, and I will miss her so much.
I am happy we were able to see her and spend time with her this past September. It makes me smile to think of her greeting me each morning ("HOLY COW YOU'RE STILL HERE HOORAY!") and to remember her kisses and cuddles.
And the fact that – even though her little getaway sticks had slowed down through the years – she still managed to prance along behind me, just like old times: "GUYS! LOOK! ISN'T THIS THE BEST?!"
Rest easy, sweet girl.