Anyone who knows me knows how much my Gran meant to me. Even at 99, she was feisty and lived on her own and had even planned to go on a cruise in October.
Sadly, that was not to be. She left us on November 15th, 2015. If there is an upside, it's that she went on her own terms and did so peacefully, surrounded by family and much love.
I fully expect to share any number of Gran stories in the future (as I have in the past), but for now I am sharing a snapshot of social media updates to family and friends and her eulogy, which I wrote and delivered. The updates are for context, the eulogy is upon request of family and friends who weren't able to be there for her service. Thanks.
###
November 10
Gran went in for surgery a little while ago.
She was kicking ass and taking names and ready to begin her chemo this past Monday, but a couple of days prior to that she ran into complications.
We've been waiting patiently for the issues to resolve, and they didn't. It should be noted that (other than the complications) she was doing great, and the doctors and nurses are still marveling at her overall health and feisty spirit.
When faced with the choice between having surgery and doing nothing, Gran didn't hesitate. "I'd just as leave do the surgery and take my chances," she said.
And so once again, please keep Gran in your thoughts. Thank you.
November 11
Gran update: She is doing really well today. The Physical Therapist actually had her sitting up and joking a little while ago. She said to tell everyone thank you for the well wishes, it really means a lot that so many people are thinking of her.
November 14
Gran is still in the ICU and still fighting, and she could not be getting better care. We're hopeful that she will rally, but in the meantime she could still use all of the strength and hope you can send her way. Thanks.
November 15
"I love you, little Grandma."
"If I know anything, my darling, I know that. And I love you, too."
Gran said this to me just before her surgery last Tuesday.
Today the world is a little less bright as we said goodbye to her.
In the days to come I'll have more to say about her kindness, her strength, her love of family, and her sense of fun and wonder.
For now, please know that my heart is shattered. I know she was 99. I know I was lucky beyond reason to have her in my life for so long. But regardless, I was not ready for her to go.
November 20
I offer a heartfelt thank you to each and every one of you who reached out – often on multiple occasions – just to say you were thinking of me and my family during this difficult time.
To those friends who took the time to stop by the viewings or funeral service: it meant a great deal to have you there, even if I wasn't able to fully express it at the time.
I know it will take time to recover – and that something in my world has profoundly and irrevocably changed – but resilience, kindness, joy, laughter and love were all qualities central to Gran's way of life. I will strive to honor her memory by living my life in the same way.
###
Eulogy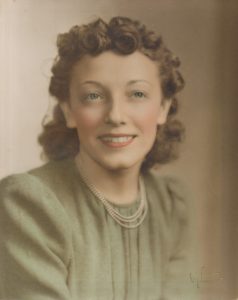 I can say with utter certainty that Gran lived her life with joy and love. I know she felt that she had a good life, because she told me so herself.
Anna Elizabeth Golden was born in a house on a hill in Mt. Winans on August 20th, 1916. She once told me, "As a child growing up, it wasn't great but it was okay." She was two and a half years old when her mom died during the Great Flu Pandemic of 1918. Her father remarried, and her life was not easy. She stopped going to school after 8th grade to care for her family.
She grew up in poverty, but made the best of it. They used to have one roller skate, and all of the kids would "catch the devil" for wearing one shoe out. When charged with caring for her younger sister, she'd stand at the top of their road in Lakeland and release the handle of her sister's carriage, racing to catch it at the bottom of the hill before it ran into something. She always laughed when she told that story.
She got a job at the Carr-Lowrey Glass Factory making perfume bottles.
When mom and I had lunch with her on her birthday, she said, "Sometimes I think I have such a blessed life today because I had such a difficult life when I was young."
And yet she never complained.
She met Pop Pop (her husband Charles) through her friend Hilda, who lived across from the drugstore where he and his friends hung out. For their first date, they went to a shore house on the 4th of July, 1940 and were married just over a year later on July 12th, 1941.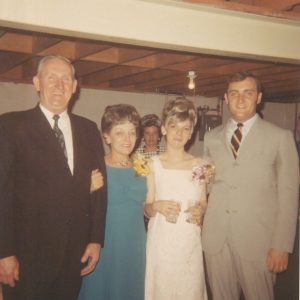 Pop Pop was in the Army, and during WW II he was stationed in Medford, Oregon. Gran took a train across the country by herself to meet up with him. She was scared to death, but met nurses and soldiers along the way who looked out for her and helped her. They lived in a big farmhouse with couples from all over the country, and were there until the war ended. They moved back to Maryland and raised their two boys, Charles and Bruce. They had the kind of relationship people dream of – filled with love and mutual respect and consideration.
She learned to drive in her 50s, when Pop Pop was in the hospital. She did it on her own, with no fuss, as she did so many things.
She enjoyed crocheting and sewing, and made many of my halloween costumes when I was young. "Michael-Anne wants to be a dog." "How the hell am I supposed to make that?" She made tablecloths, afghans, snowflakes to adorn Christmas trees, ornaments and stuffed animals.
Gran played cards on Tuesday nights with the women in her neighborhood for 40 years: poker mainly, for pennies. She was in
a duckpin bowling league, on a team called The Loudmouths.
She was an avid sports fan, a member of the Colts Corral where she met some of her closest friends and more recently a Ravens fan. I smile to think of her watching and yelling at the television or cheering.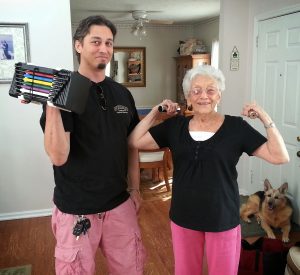 She began walking when JFK started his fitness program in the early 1960s, and credited her longevity and good health to that. As she grew older, she would join walkers in the local malls, and even as recently as a month ago she was using stairs instead of the elevators in her building.
Gran always voted. Always. Every single election. In her words, "I put my two cents in. If I vote I have a say in what's going on. If I don't vote, I don't have anything to say."
She was Catholic, and always went to Sunday school and church. In fact, she was the godmother of many family members because she could be counted on to go to church. Recently, she'd stopped going because she didn't want her cough to bother anyone but she watched mass each Sunday on television.
She adored baking, and said to me on many occasions with great pride, "Everyone loves my sugar cookies." She made her black walnut cakes for Christmas, a bunny cake for Easter and made the pies every Thanksgiving.
Gran watched me when I was little, and she made a point of bringing together my little cousin Karin and I as much as possible. She'd take us on all kinds of adventures together, helping to build the bonds that make Karin the closest person to a sister I have.
She loved to travel, and went on all kinds of trips and cruises through the years. Her most recent cruise was with Mom to Bermuda, and they'd planned another one in October that they were unfortunately unable to make. Every time she'd get home from a cruise, she'd say, "That's my last one." Then, the next thing you'd know, she'd be planning another one and buying new outfits and getting excited.
She sat in the fourth row of Merriweather Post Pavilion to see Jimmy Buffett. That was her first concert. She was 76 years old.
She learned how to work her dvd player, owned and played on a Nintendo DS and recently got HD television. She was so excited she called to leave me a message about it on my machine, a message I will cherish because it just spoke volumes that a 98 year old would get that excited about new technology. 
She loved reading. She played Yahtzee with gleeful abandon and often cheated at Scattergories, picking a random letter and then insisting on getting points because the words she chose were therefore unique.
She loved laughing, and jokes, and never, ever took herself too seriously.
She considered herself a plain person.
We all considered her to be magical.
Why? Because she made everyone feel loved.
I keep thinking, "I wish I'd spent more time with her," and I'll bet others in this room are thinking the same. And yet, how often did I call her to do things and she was busy? How remarkable is it that a woman in her 90s had such a full schedule? It is a testament to how very much she was loved, and that brings my heart solace.
Because truly, I would never have had enough time with her.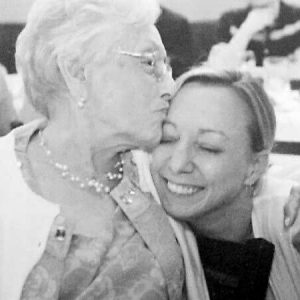 If I could ask her one question, it would be this: "How did you meet the sadness and loss throughout your life with such grace and fortitude?" She survived her brothers and sisters, her husband, both of her sons (lost within 6 months of each other) and close family and friends throughout the years. She survived breast cancer and colon cancer. And yet I seldom saw her sad, or angry, or upset.
She carved out a space for each of us in the world where we felt loved and cherished. And part of that gift was being able to live our lives knowing that her love was always there for us, a haven. When we'd return to her to tell her of new adventures, she would listen with wide-eyed wonder. She was eager to listen, which is part of what made her so unique. She believed in us and in our dreams, and she loved celebrating our successes.

She never judged. If I've heard it once from people in this room, I've heard it a thousand times: "Ann never had a bad word to say about anyone."
Gran would have made an incredible nurse, compassionate and committed to doing the tasks that needed doing, no matter how difficult. She cared for so many others throughout her life – family and friends, through sickness and through death. It cannot have been an easy road, and yet she walked it all the same with her head held high and surrounded by a joy in life that remained undimmed.
She was genuine and kind and honest and loyal. She had countless good friends and was still making new ones.
"I'm the type of person who always thought positive. I never gave death a thought. Attitude means a lot," she said once, in response to yet another person asking her how she was in such great shape for someone in their nineties.

And then she said this: "It's just as easy to be nice to people."
So as we remember Gran, let's not focus on her absence. She had a  good life, and lived it fully until the very end. We are mourning not for her, but for ourselves, because we miss her and simply cannot imagine a world without her in it. We are grieving because our world will never be the same. And that is okay for now.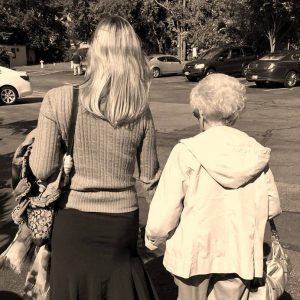 But afterwards let's focus on carrying her gifts of love and selflessness and compassion and joy in life forward from this day. Let us focus on being kind to each other, and on listening to each other, and on thinking of others before ourselves. Let's laugh often and spread happiness. Let's celebrate the successes of others without judgement.
Let's hold her in our hearts and minds and live in such a way that honors her incredible legacy.
I love you, Little Grandma.
###
UPDATE: If you'd like to make a gift in honor of Gran, please consider Catholic Charities of Maryland or an organization investing in cancer research, such as my friend Doug's Pan Mass Challenge. 
Gran lived in Catholic Charities Senior Housing and believe me when I say it made her shine. Prior to that – living on her own – she became isolated as time passed. Once she moved in (the second person to move into the new building!) she truly blossomed. She made new friends. She became the money collector for bingo. She took part in fashion shows. She became so busy that family members would have to reserve dates on her calendar. I know she'd love the thought that part of her legacy will help others maintain independence and stay active through well-funded programs for seniors.
I've been supporting Doug's two day bike ride to raise money for the Pan Mass Challenge (PMC) for several years now. His commitment to this cause is inspiring, as is the mission of the PMC: Since its founding in 1980, the PMC has successfully melded support from committed cyclists, volunteers, corporate sponsors and individual contributors. All are essential to the PMC's goal and model: to attain maximum fundraising efficiency while increasing its annual gift. Our hope and aspiration is to provide Dana-Farber's doctors and researchers with the necessary resources to discover cures for all cancers.
Thank you for your consideration.